ASQ CSQE Exam Prep Course 10 Wednesday Evenings Live ONLINE (CP500-2)
May 22 at 6:00 pm

-

July 31 at 9:00 pm

$699.00 - $799.00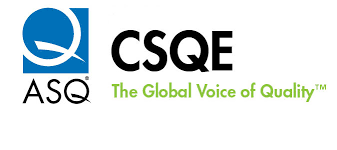 ASQ Philadelphia offers this Certified Software Quality Engineer (CSQE) Online Exam Prep Course (CP500-2, 3.0 RUs). This course is aligned to ASQ's CSQE Exam Testing window August 2 – 18 2019. It runs for 10 consecutive Wednesday classes by way of Gotomeeting "live" virtual classes 6:00-9:00PM Eastern Standard Time, starting May 22nd and ending July 31st (skipping July 3rd.) A cost saving discount is offered through Early Bird registration, and when three or more from the same company register together.
The Section reserves the right to cancel the course if the minimum enrollment of 6 is not met. Refunds will be provided if class is not held. For tracking status of Go/No-Go based on ticket sales you can contact Section 0505 volunteer Tom Reed tomreed610@verizon.net.
The connection for a live online http://www.GoToMeeting.com requires Google Chrome browser on your computer. Get Chrome: https://www.google.com/chrome/browser. Your contact information email and Phone Number obtained during registration is important. The instructor will contact you directly before the first class on how to access the Web-based platforms for the course. Classes are recorded and shall be available for playback fas a reference or if a class is missed.
About the Instructor – Curt Gendler, CSQE, PMP
Curt brings real life experience to his class for those who not only want to be certified yet also want to learn from experience. He has worked in the Quality arena for over 25 years, and a combined 35 years in the Computer industry. He has hands-on Computer Validation and Management experience throughout the medical device and pharmaceutical industry. He currently works for a BioPharma corporation as a Senior Quality Engineer.
Proposed Benefits:
ASQ Members earn 3.0 RUs
Prepare for the ASQ CSQE exam. Provide a strong knowledge base for implementing or improving software quality engineering techniques and practices in your organization. This course also provides practical skills combined with the instructor's experience and unique perspective which can allow students to transition the skills learned in this course to their own work environment.
In addition, the Live aspect provides the camaraderie, collaboration, and connections with others in the field of Quality that may provide support and assistance in many other ways. Curt has presented this course to students across the globe.
The course workbook used is not included in the ASQ Philadelphia Eventbrite class registration purchase.
The $80.00 CSQE Primer from the Quality Council of Indiana will be required of each participant to purchase from themselves before the first class. The supplemental $35.00 CSQE solution set, is not required but it is recommended. The Primer will be used as the principle class guide. The Solution Set has expanded explanations to the sample test questions contained in the Primer.
 https://www.qualitycouncil.com/CSQE

ASQ Certification Examination Note:
Registration and fees for this class do not include registration for any certification examination.  Registration deadline for the June 2019 exam window is several weeks after the class has begun. Consider waiting on exam registration until the class is confirmed to be held.  Each certification candidate is required to pass an online examination that consists of multiple choice questions that measure comprehension of the ASQ CSQE Body of Knowledge. To review your credentials and eligibility to take the CSQE exam prior to class registration, or to download a .pdf copy of the ASQ CSQE Body of Knowledge please go to https://asq.org/cert/software-quality-engineer
Payment Options:
Payment for the course is due by the Eventbrite Sales End date and time.
PayPal: This is the preferred payment. Follow instructions on the Eventbrite Registration page.
Pay by Check: Act promptly. An alternative that requires special arrangement with the Instructor and Section Treasurer listed below, is to pay by check. Contact via email the Instructor directly cgendler@yahoo.com m: 484-467-9849 or backup volunteer Tom Reed tomreed610@verizon.net m: 215-779-6712 to receive email confirmation of securing a seat; then, make checks payable to: ASQ Philadelphia Section 0505.
Mail checks to:
ASQ Section 0505
c/o Tom Petrocella, Treasurer
422 Woodland Ave.
Glendora, NJ  08029
Class information and Emergency Contact:
Curt Gendler, Instructor, 484-467-9849 or cgendler@yahoo.com
Tom Petrocella, Section Treasurer, 609-405-0035 or tpetrocella@comcast.net