ASQ CMQ/OE Exam Prep Course 9 Thursday evenings Live ONLINE (CP350-1)
May 2 at 6:30 pm

-

June 27 at 9:30 pm

$699.00 - $799.00
The course consists of nine classes on Thursdays 6:30 p.m. to 9:30 p.m. Eastern Time from May 2nd 2019 through June 27th 2019. This precedes ASQ's computer-based testing window of July 6 – 21, 2019. A discount is offered through Early Bird registration, and when three or more from the same company register together.
The Section reserves the right to cancel the course if the minimum enrollment of six students is not met. Refunds will be provided if class is not held. For tracking status of Go/No-Go based on ticket sales you can contact Section 0505 Education Chair Tom Reed at tomreed610@verizon.net.
Attendance Options:
Option 1:   Attend the online class while it is in session. A Goto Meeting link will be sent by instructor. This requires Google Chrome browser on your computer. Get Chrome: https://www.google.com/chrome/browser. Using your contact information email and phone number obtained during registration Instructor Jay Armstrong will contact you directly before the first class on how to access the Web-based platforms for the course.
Option 2:   Watch all sessions via uploaded video recordings during your time.
Prerequisites:
There are no prerequisites to attend this class however you must have 5 to 10 years of on-the-job experience (depending on education level) to apply for the certification examination. More detailed information can found here.
Class Details:
ASQ members earn 2.7 RUs.
ASQ CMQ/OE certification is considered a mark of quality excellence in many industries – not just through mastery of the body of knowledge in quality systems and tools, but also through ability to build alliances across functions.
The seven broad topics of the CMQ/OE Body of Knowledge include:
Leadership
Strategic Plan Development, Deployment
Management Elements and Methods
Quality Management Tools
Customer-Focused Organization
Supply Chain Management
Training and Development
Having the CMQ/OE certification will differentiate you and your company.
Managing Quality in or outside the quality function organization
Leveraging the quality organization and management systems
Motivating and evaluating staff
Managing projects and human resources
Leading teams in monitoring, measuring, and improving performance with customers/suppliers
Champion process-improvement initiatives—everywhere
Building alliances – strengthening relationships
Understanding company cultures and personalities
Contributing to the strategic planning and deployment initiatives
Analyzing financial situations,
Determining and evaluating risk
Integrating quality systems and tools into the fiber of assorted management systems
Be part of a local study group led by a highly qualified and certified instructor. Be part of a facilitated, small, study group of local professionals doing a page-turn of the Quality Council of Indiana CMQ Primer, an ASQ-approved and very popular study guide.  Your comprehension and exam score will surely increase by not studying alone. Join us!
Familiarize yourself with the exam: This course is presented in a way that reinforces current knowledge, re-introduces applications that may not be used every day, explains the rationale for use and highlights sample questions, both multiple-choice and constructed responses.
Pace your study over ten weeks:  As facilitator, the instructor will enable the group to see the fully body of knowledge and zero in on areas in need of self-study or brush up on your own before the exam. Participants will be asked to pre-read each section of the primer each class, so the page-turn in class can be fairly fast. The instructor will plan and encourage stopping points to discuss rational for and/or likelihood of examination questions.
Practice and receive critiques: As facilitator, the instructor will allow time at each session to practice multiple choice questions, and practice constructed response questions. The instructor will also provide individualized critiques via email between classes. Time spent in-class will not only be fun but give you confidence entering the examination.
Additional Purchase Requirement:
The course instruction workbook is not included in the course fee. Before the first-class you must purchase the $80 printed copy of the Quality Council of Indiana CMQ Primer at https://www.qualitycouncil.com/CMQ/.
We also recommend purchasing a copy of the $35 CMQ Solutions Guide. Additional course material will be provided by the instructor.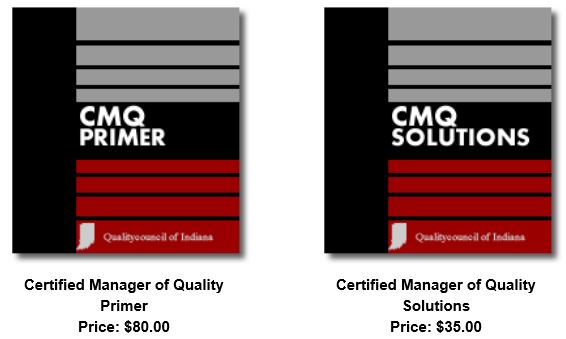 Certification Examination, another cost:
Registration and payment for this class does not include registration with ASQ for the certification testing. For testing registration cost and deadline information, go to ASQ.org https://asq.org/cert/certifications and locate "Manager of Quality/ Organizational Excellence". It is strongly advised that registrants of this course consider taking the ASQ exam during the July 6 – 21, 2019 ASQ Computer-Based Testing window. It is also advised to delay registering for that exam until after this course has begun.
About the Instructor:
Jay Armstrong is the Director of the Project Management Office of the Temple University Health System. He holds a B.A. in Bioanthropology, Summa cum Laude, an MSc. in Biotechnology Engineering (both, University of Pennsylvania), and M.S.E. in Technology Management (Wharton/University of Pennsylvania), and an MSc. in Biotechnology (Johns Hopkins University). Mr. Armstrong has more than 20 years of experience in the Pharmaceutical industry in the areas of R&D, Pre-clinical Drug discovery, Lean Six Sigma, Decision Analysis, Innovation, Operations Management, Strategy development, Tactical Planning, and Analytics and is the holder of 10 US and international patents for his experimental work with Sirolimus in organ transplantation. He is a Six Sigma Master Black Belt, Six Sigma Black Belt (ASQ, University of Notre Dame), CMQ/OE (ASQ) and is a graduate of the Project Management and Decision Analysis programs of Stanford University and the Lean Academy at MIT.
Payment Options:
PayPal: This is the preferred payment.
Pay by Check: Act promptly you must contact the Instructor and Section Treasurer listed below to pay by check. Send email to Jay Armstrong or call him at 215-208-4611 or email Education Chair Tom Reed or call him at 215-779-6712 to receive email confirmation of securing a seat; then, Make checks payable to:  ASQ Philadelphia Section 0505.
Mail the check to:
ASQ Section 0505 Treasurer
c/o Tom Petrocella, Treasurer
422 Woodland Ave
Glendora, NJ  08029
Emergency Contacts:
Instructor Jay Armstrong
Phone:  215-208-4611
Email:  genengineer05@yahoo.com