The Ninth Annual Women in Quality Symposium
April 26 @ 5:30 pm

-

9:00 pm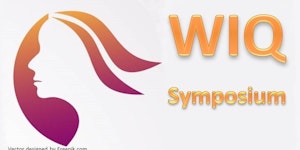 Your Moderator:  JeanettePascuzzi-Heacock, R.Ph, MBA, CSSBB, CQA will be introducing these three exceptional speakers.
Joanne is the founder of Vitali Workshops & Coaching which specializes in helping people play big in their careers. Joanne specializes in coaching leaders, helping them navigate the political arena while maintaining their authenticity.  As their coach, Joanne works with them to clarify and play their 'big game', the purpose and values behind their game and the skills that they need to practice to improve.
Her special focus is working with Geek Girls (corporate women with technical or scientific backgrounds) since she is a Geek Girl herself. She's trained the astronauts as NASA, been a nuclear engineer and done strategic planning and quality consulting for an international medical software company.   In addition, she has held the position of Lecturer on communication and persuasion skill topics for the MBA program at the Wharton school of the U. of Pennsylvania.
Joanne has a BS in Physics from Georgetown U. and graduated summa cum laude with a MBA in organizational development from U. of Houston at Clear Lake. She is a Professional Certified Coach from the International Coach Federation.
Shelly is a healthcare executive with well over a decade of experience in public policy, lobbying, and advocacy engagement at GlaxoSmithKline, the University of Pennsylvania Health System, and in state government – all positioning her well to understand team dynamics.
After learning about body language, it became clear to Shelly that this was a key to unlocking your authenticity and making your true impact! Body language makes a huge difference! After seeing this firsthand, Shelly was hooked and she has refocused her career to help others receive these benefits.
She completed a rigorous training and certification process — through the Science of People, a leading behavior research lab — to become a body language trainer, corporate speaker, and executive coach. Through Illuminate the Message, LLC, she draws from her real-world experience and world-class training to help teams learn to use body language to drive sales, negotiations, communication, and inter-office relationships. Shelly has an MPA from University of Pennsylvania, a Marketing Management Certification from Wharton, and a BA in Political Science from Millersville University.
Dianna has worked in the manufacturing industry for over 20 years as an engineer and consultant in the development and processing of tangible goods. She is a senior member of ASQ and has earned the CQE, CRE, CQA, and CMQ/OE. She is currently president of Deeney Enterprises, LLC which offers Process Analyst services to business, service, and manufacturing industries.
For more information about their presentations and to register through Eventbrite click here.