ASQ Certified Quality Engineer Exam Prep class with ONLINE Option 6-9PM EST Fall-2018 (CP200-1)
September 6 @ 6:00 pm

-

November 15 @ 9:00 pm

$699.00 - $799.00
Event Navigation
Instructor: Paul Staudt.  Paul's professional profile is listed further down this course description. To view all ASQ-Philadelphia instructor biographies visit https://www.asqphilly.org/courses/instructor-biographies/
This class will be held from 6:00 PM – 9:00 PM EST every Thursday for 11 sessions starting on September 6, 2018, ending Thursday November 15, 2018. All students have the choice to attend the classroom or attend and participate live Online.
The timing of this course is aligned with the ASQ.org December 7th-23rd 2018 testing window.
ASQ RU: 3.3
Prerequisites: None required. However, attendees preparing to take the ASQ Certified Quality Engineer (CQE) examination must have the requisite experience and education to qualify for the examination. Go to www.asq.org and click on Certification to obtain all the information necessary to sit for the examination.
Proposed Benefits
This course will help attendees become better prepared for the CQE examination by having them become familiar with the complete Body of Knowledge (see Topics to be covered below) for the CQE examination.
Class discussions will include an in-depth review of the examination process, and example test questions and answers will be provided to offer attendees a better understanding of the basic principles and applications that will appear on the examination.
Companies/organizations will benefit by having ASQ Quality Engineers because they are professionals who understand the principles of product and service quality evaluation and control. This Body of Knowledge and applied technologies include, but not limited to, development and operations of quality control systems, application and analysis of testing and inspection procedures, the ability to use metrology and statistical methods to diagnose and correct improper quality control practices, familiar with quality cost concepts, and the knowledge and ability to develop and administer management information systems. Having ASQ Certified Quality Engineers confirms your companies/organizations commitment to Quality.
Class Details:
The classroom techniques will include lecture, individual participation, group problem discussion, case studies, and quizzes to test understanding. All questions will be answered.
In an instructor-led class, any individual's weaknesses of the subject matter are worked-on as a group so as to explain, clarify and fix the weakness.
In addition, a classroom-based class provides the camaraderie, collaboration, and connections with others in the field of Quality that may provide support and assistance in many other ways.
Taking this course does not require you to sit for the next examination. This course can be used to learn the fundamental elements that a Quality Engineer should know and be prepared to implement.
The CQE Primer from the Quality Council of Indiana will be used by each attendee. This is to be purchased separately by participants from the Quality Council of Indiana website. Section Handouts that will be used as the teaching material will be handed out during class as required. The CQE Solutions booklet from the Quality Council of Indiana is optional, but recommended because it elaborates on multiple choice right and wrong answers to the sample questions included in the CQE Primer.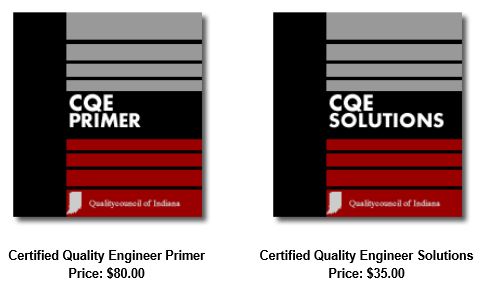 Topics to be covered:
Audits, Calibration, Control Charts, Corrective/Preventive Action
Data Processing, Experimental Design, ISO 9000, Metrology
Malcolm Baldrige Award, NDT, Procurement QC, Probability
QA/QC Management, Quality Costs, Reliability and Maintainability
Sampling, SPC, Statistics, Surveys, Testing
Certification Note:
Registration and fees for this class do not include registration for any certification examination.  Registration deadline for the June 2018 exam window will be several weeks after the class has begun. Consider waiting on exam registration until the class is confirmed to be held. 
About the Instructor:
Paul Staudt is the Worldwide Manager of Supplier Quality Management at Ethicon Inc, a Division of Johnson & Johnson (Somerville, NJ).  Paul earned a BSE in Chemical and Biomolecular Engineering from the University of Pennsylvania and an MS in Regulatory Affairs and Quality Assurance from the Temple University School of Pharmacy. He is a Certified Quality Auditor (ASQ), Certified Quality Engineer (ASQ), a Certified Professional in Supply Management (ISM), and a Certified SS Green Belt.  Paul is a goal-oriented motivator with great success in leading & elevating the performance of diverse, multifunctional teams.  He has 20 years of progressive experience within the Pharmaceutical, Medical Device, Consumer Healthcare, and Elastomer Industries.
Attendance, Registration, Refund, and Payment Details:
Section reserves the right to cancel the course if the minimum enrollment of 6 is not met. Refunds provided if course is not held.
Payment for the course is due by the first class session unless prior arrangements are made with the Section Treasurer (see below).
Payment Options:
PayPal:  Follow instructions on Registration page
Pay by Check:  Make payable to: ASQ Philadelphia Section 0505
Mail checks to:
ASQ Section 0505
c/o Stewart Roseman
1217 Hartranft Ave.
Fort Washington, PA 19034
Class information and Emergency Contact:
Paul Staudt, Instructor, 717-673-4838
Stewart Roseman, Section Treasurer, 215-692-3993 or stew1217@gmail.com